Custom Zippos
Perkal Gifts Now Offers High Quality
Custom Engraving and Imprinting on Zippo Lighters
For souvenir lighters, custom designs, or special orders, we create just the right lighter for you. Zippo offers several different imprinting methods, descibed below. The minimum quantity for custom-imprinted products is 50 pieces per product model per design. Zippo's custom imprinting process starts with your camera ready artwork. Their art department can also reproduce a souvenir postcard, sketch, photograph, or any other image you would like on your choice of Zippo product. If you are requesting a logo to be imprinted, please keep in mind that is is your responsibility to secure the right to use the logo.
Customise Zippo Windproof Lighters
The world-famous Zippo pocket lighter features a classic design and is highly collectible.The case is constructed out of solid brass with a sturdy nickel silver hinge.The stainless steel insert has a specially designed windproof chimney. Made in the U.S.A., the Zippo name is recognized throughout the world.
The Bottom Stamp
Of special interest to collectors:The authenticity of your Zippo windproof lighter is assured by the factory stamp on the bottom of the case.The code indicates month and year of manufacture.
Imprint Areas:
There are nine imprint surfaces available on a windproof lighter as shown on the diagram below.
Exceptions:
Surfaces 5 thru 9 can only be laser engraved.
Model #15 Sterling Silver is available with computer engraving process only.
Sterling Silver finish is available in a minimum quantity of 25 units.
Speculative samples and pre-production samples are not available on Sterling Silver.
Model #236 Black Crackle is available with laser engraving only.
Model #451 REALTREE HARDWOODS® is not available for personalization.
Surprise lighters Reverse lid or bottom can be custom imprinted – no imprinting available on front surface of surprise lighters.
Imprint Dimensions:
The imprint dimensions for the nine imprint surfaces available on a windproof lighter are shown on the diagram below.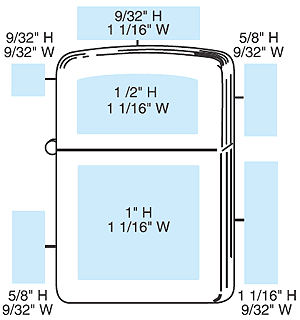 Printing Options:
SURFACE IMPRINT
Surface imprinting is a silk-screening process using a separate screen for each color. Durable epoxy paint is applied to the finish, building a rich and vibrant image. The product is oven-cured, bonding the epoxy imprint to the surface, where it becomes and integral part of the finish.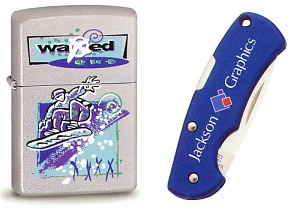 COMPUTER ENGRAVING
The crist, clean look of computer engraving has become one of the most popular customization methods Zippo offers. Skilled operators use either the rotary engrave or diamond cut method to inscribe an image into the product. Each engraving machine is custom programmed through a keyboard or from digitized atrwork.
LASER ENGRAVING
Laser engraving is one of the newest customization methods offered by Zippo. The state-of-the-art process allows tremendous flexibility in reproducing your artwork on our products. Our laser engravers are computer programmed to generate crisp, accurate replication of your imprint. Laser engraving is now available on most Zippo products. Show us your artwork and we will tell you if laser engraving will work for you.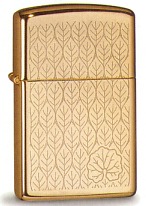 ETCH AND PRINT
Zippo's etch and paint method produces an attractive, durable imprint. A reversed image is silk-screened on the Zippo product with an acid-resistant paint. Leaving exposed only the areas to be etched, the product is dipped in an acid bath, which etched all unprotected areas. Paint colors are screened one at a time into the etched cavities, resulting in a colorful graphic that is permanently defined in the surface.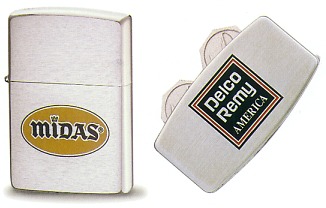 LUSTER ETCH
The procedure for luster etch is the same as etch and paint through the acid bath. No colors are used for luster etch; instead, the product is etched and then plated. Skillful hand or machine buffing defines the high and low areas of the design to create a subtle dimensional effect.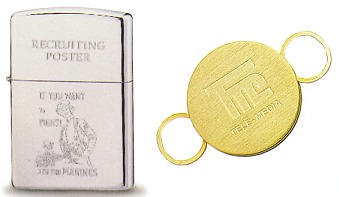 Pad Print Ink Charts
The color samples shown here are intended as representations only. Variations in ink application, substrate color or brilliance may affect production color results. No warranty or guarantee for results obtained is expressed or implied. The maximum number of pad print colors that we can imprint per product is four (4).
This side represents what the standard pad printing inks look like when used on a black substrate.
No products were found matching your selection.