Customized Ties
The tie market in South Africa is massive. In excess of 50000 ties are made and sold in the country every day. While there is a perception that men no longer wear ties, the emerging market sees the business arena as one where dress code is absolutely not negotiable. Suits and ties are being sold in quantities that have increased every year since 2000.
Companies have come to realize the value of corporate uniforms in all industries where their staff interact with clients or the public on a regular basis. The IT boom of the nineties saw companies scrapping uniforms and dress codes in an attempt to appear hip and successful. These actions have in many cases come back to haunt these companies. In a culturally diverse country like South Africa, what is seen as acceptable dress to one group is often viewed as inappropriate to another. When internal staff or management are the only judges of what is appropriate, the individuality that is expressed in clothing at the workplace can often be excused because a staff member is particularly efficient or has a unique personality. When that person interacts with customers at large or the public, it is always that first impression that sets the tone of all future interactions.
Also, many corporates found that taking men out of ties lead to an unexpected problem, shoes! Once male staff were wearing golf shirts and chino's they felt that casual was accepted and soon were either wearing unpolished shoes or had changed their footwear to include takkies. While this made staff feel comfortable, clients often found it to be inappropriate. The rule is simple. Smart is always better than casual. Most men have little idea of how to dress anyway, so companies should manage this process with the same attention as any other form of branding. Branded corporate ties on a smart shirt, neat trousers and polished shoes are appropriate corporate wear at any level.
Remind your client that many of the major corporates that had relaxed their dress codes have reinstated corporate uniforms. Major banks to car dealerships, security companies to hotel groups have all taken back the control over how their staff appears in public.
School Ties

TWSA has traditionally supplied tie fabric for all the schools in Southern Africa. Plains and stripes in reppe or satin weaves are the basis on which TWSA has successfully built its reputation as the supplier of choice to the necktie industry. With orders from as little as 12 meters, we can meet all your requirements for school tie fabrics. We also offer Jacquard woven school ties custom designed from as few as 100 ties. TWSA has an extensive range of over 150 standard yarn colours in stock. This allows us to match your specific needs in terms of colourings for your school.
---
Corporate & Sporting Ties

TWSA prides itself on producing short-run custom designed tie fabric that meets the very high standards of your corporate customers. From simple single logo designs to allover step and repeat designs and fashion grounds, we can do it all. Our design department will take your brief and ensure that the finished design is something that your customer will be excited to use for their corporate uniforms, branding or an up market gift for their client.
Like most South Africans, we're passionate about our sport, so we are particularly proud of many of our sporting designs. Why not let us design something new for your local sports teams or that next event. For details of some of our successfully completed corporate and sporting designs, click on the Worldwide Customers tab.
---
Fashion Ties

TWSA's team of young fashion designers work in conjunction with consultants from Como, Italy to create a wide range of exciting fashion tie fabrics. Our fabrics have been particularly successful at all South Africa's leading retailers due to our combination of great design, attention to detail and fine colouring. We have a range of designs from conservative to funky and everything in-between. If you would like, we can also produce a range of designs specifically to meet your requirements. Or, we can take our existing designs and recolour them for your market. It's like having your own fashion designer without the costs of development.
It is in this area of the market that TWSA has made the most impact on its customers in the past few years. In terms of infrastructure, TWSA has the capability to satisfy both large and small orders. We have successfully delivered orders of many thousands per design and yet we have the facility to handle orders as small as 50 ties per colourway. This flexibility has benefited all our fashion customers.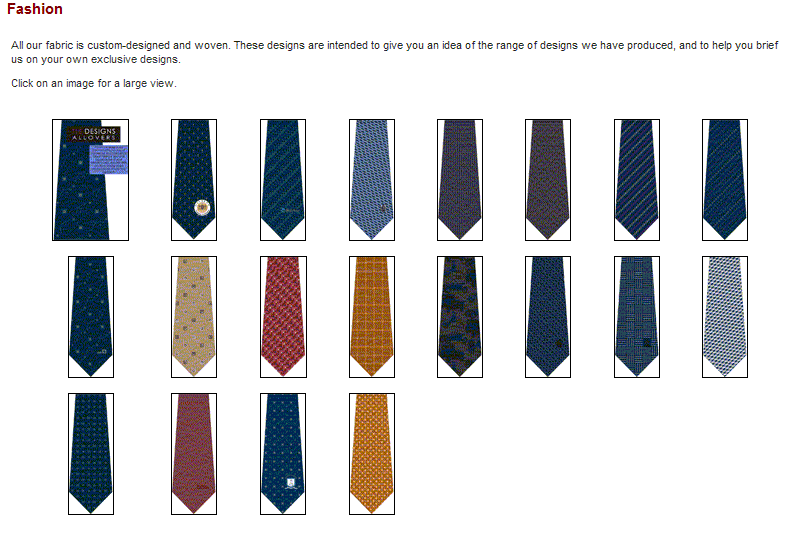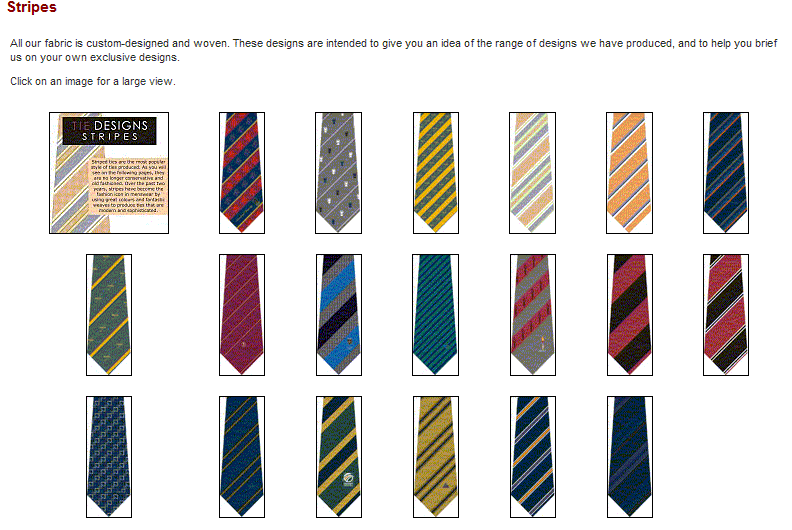 | | | | | | | |
| --- | --- | --- | --- | --- | --- | --- |
| TIES | | | | | | |
| JACQUARD WOVEN | SINGLE | STEP & | ALLOVER/ | | | |
| POLYESTER | LOGO | REPEAT | FASHION | | | |
| 50 ties | R 118.50 | R 118.50 | R 118.50 | | | |
| 100 ties | R 111.00 | R 114.00 | R 117.00 | | | |
| 250 ties | R 102.00 | R 105.00 | R 108.00 | | | |
| 500 ties | R 91.00 | R 94.00 | R 97.00 | | | |
| 1000 ties | R 88.00 | R 91.00 | R 94.00 | | | |
| 2000 ties | R 86.00 | R 89.00 | R 92.00 | | | |
| | | | | | | |
| SILK/PRINTED TIES | 100 | 200 | 400 | 600 | 800 | 1000 |
| POLYESTER PRINTED | R 124.50 | R 109.50 | R 108.50 | R 104.50 | R 102.50 | R 101.50 |
| SILK WOVEN | R 172.50 | R 168.50 | R 145.50 | R 141.50 | R 139.50 | R 138.50 |
| SILK PRINTED | R 167.50 | R 154.50 | R 143.50 | R 139.50 | R 137.50 | R 136.50 |
Min order requirement: 50 Units
Prices exclude vat
Contact sales@perkalgifts.co.za for more information
No products were found matching your selection.