Branded Tissues

TISSUE BOXES
Sneezing is a good thing? Yes, absolutely! The act of sneezing is not great for anyone however the process can be highly beneficial for companies looking to take advantage and expand their marketing. Let us explain…
When someone sneezes, their immediate reaction is to reach for a tissue, a helping hand in someone's time of need. Your company can be that helping hand by providing people with branded tissues which they will have at their side in their time of need. Excellent marketing by becoming the business that helps and supports people in their everyday lives.
Even better is that branded tissues aren't limited to merely sneezing. Tissues are a big part of people's everyday lives so branded tissues make absolute sense for any company looking for marketing expansion.
Our high-quality branded tissues are available in various shapes and sizes, with the packaging customisable too.
Get your brand name out there and become the company that people depend on with creatively branded tissues. Browse our wide selection of packaging choices online and get started today!

We offer:
• Many different shapes & sizes
• Boxes to accommodate leaflets or
pamphlets
• Boxes containing 25 – 150 tissues
• 1 – 5 colour printing
• White pop-up 2-ply tissue
• PATENTED NOVELTY BOXES
We have a PATENT on a moulded protrusion on a tissue box. Existing moulds nose, brain, stomach, kidney, ear, soccer ball, golf ball, geometric heart and capsule.Pricing on request
Pricing for tissue boxes on request
TISSUE PACKS
Tissue Packs can be used for large customer bases, bulk mailing, consumer awareness campaigns or as "Give Aways" with a purchase.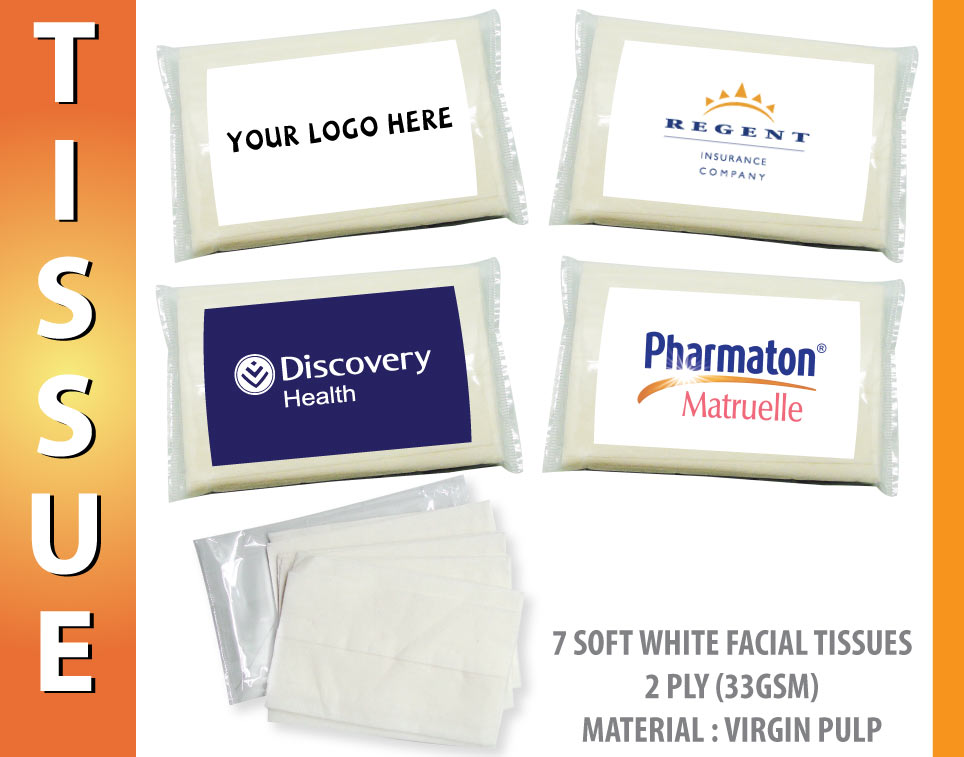 Seven Super Soft White Tissues with a full colour label is R6.20 ex vat.
Artwork and Setup is R250.00 ex vat.
Minimum: 250 units per artwork.
Lead Time: 7-10 days after artwork approval.
No products were found matching your selection.